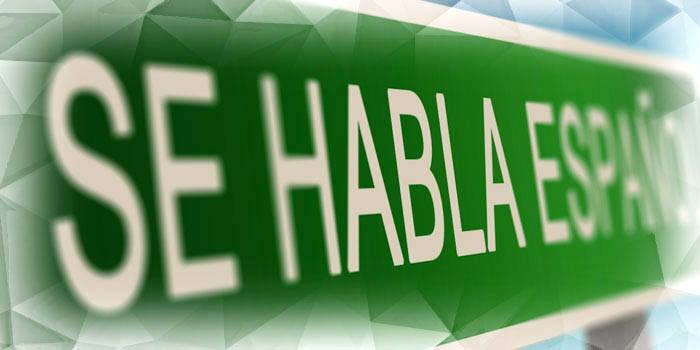 English or Spanish? Sometimes it's easy to decide whether to use one or another language or both when targeting US Hispanics. Other times it is not that easy, everything will depend on the goals you intend to achieve with your audience.
The English language is the most used in this country and, interestingly, it is not the official language yet. However, it is clear that it is the most universal and is the language of business, technology, and science.
Spanish, among Hispanics, is the language of the family, of people close to them, creates a connection with their roots; Generates confidence and trust.
A brand is more likely to have more loyal customers by communicating with them in their language.
The United States Census Bureau is a great source of information. From which we can learn several things regarding the languages we use.
Hispanics in the United States represent 11% of the population total, of whom 36% speak both languages, while 38% speak mainly or only Spanish. For 25% their primary language is English.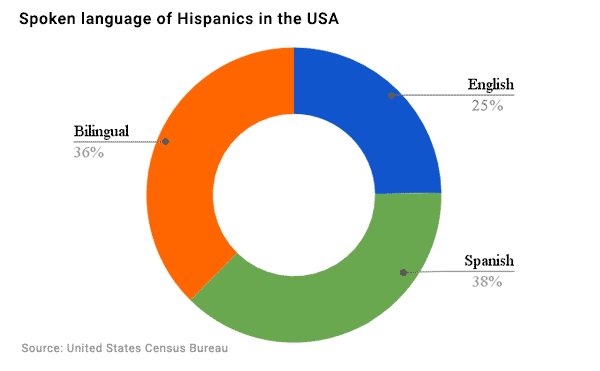 Language varies by age and generation
When making decisions, you must also take into consideration the age of your audience, this is a characteristic that influences the language to speak to your target. Let's see the following chart.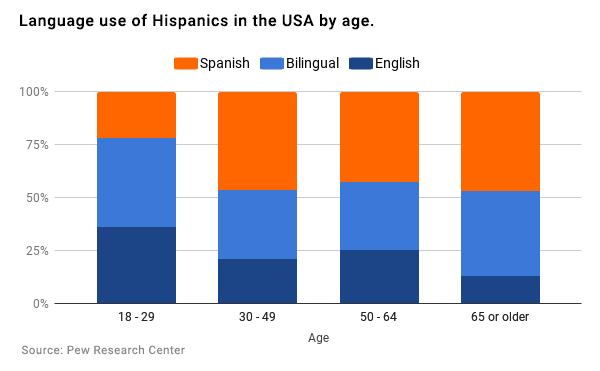 There are already several generations of Hispanics in the United States. According to data obtained from the Pew Research Center site, from the first generation of US-born, 56% speak English as their primary language. But from the third generation, the number increases to 76% or more.
A third-generation Hispanic is less likely to identify himself with the culture and language of his roots. This is not a rule that applies to all but by statistics, the younger the generation, the more communication in English.
The origin is a variable to consider
The country of origin also a matter to consider because not all Hispanics speak exactly the same language.
The following chart shows the proportion of Hispanics based on their origins.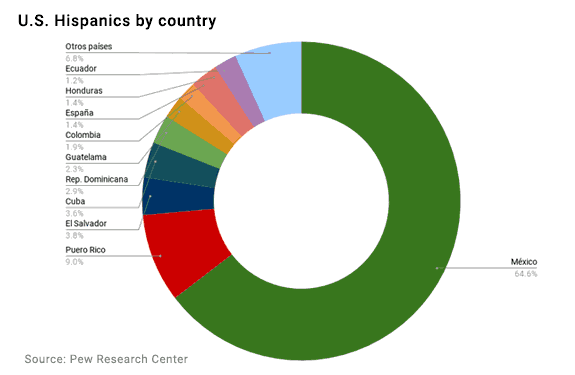 The Hispanic migration has been reduced and the first and second generations are leaving space to the following, reason why it is estimated that the use of the Spanish language will be reduced from the current 75%± to 66% ±.
Also, culture is relevant beyond language. Those who speak Spanish as their native language, know the drawbacks of using some words that may be inconvenient for Hispanics in different countries.
People out of the Hispanic culture can be really disconcerted by words with meanings without any malice, but in some context, it may be an insult.
The language is evolving, it adapts to the circumstances of the moment. We all know what is Spanglish and how it is used by combining words in Spanish and English to create new ones that do not exist in either. Many persons do not like it, but the language is like that and has been like that for centuries.
While it's true that Spanish is the second language in the U.S. by speakers number, do not forget that it is not evenly distributed across the length and breadth of the country. Only a few states have a significant presence.
The Hispanic population is concentrated in California, Texas, Florida, New Mexico, Arizona, New York, Nevada, and Colorado (not precisely in this order). While in the rest of the states its presence is reduced or even null.
In the Hispanic culture, there are also certain complexes. On one hand, those who speak basic English are inhibited to speak due to fear of doing it wrong, speak with an accent, or not understanding when people talk back.
But there are also the Hispanics born in this country who do not speak Spanish well, and they avoid speaking it for a similar reason, for fear of being criticized by other Hispanics. And we add to this that speaking Spanish in public could be hazardous because of being discriminated against.
Hispanics can take advantage of being part of two cultures, take advantage of the language or rather the languages we share, with the same dream of being integrated into this country and grow with it together.
I hope this post has given you some valuable information. Leave your comments below, and visit my contact page, so I can know more about you and perhaps work together.
Your logo and your website are the face of your business. Thinking about design is not thinking only on lines, shapes or colors; is to think about showing you are professional, reliable and likable.
When the time comes and you need a designer, send me a message. I will be glad to assist.
- Mario