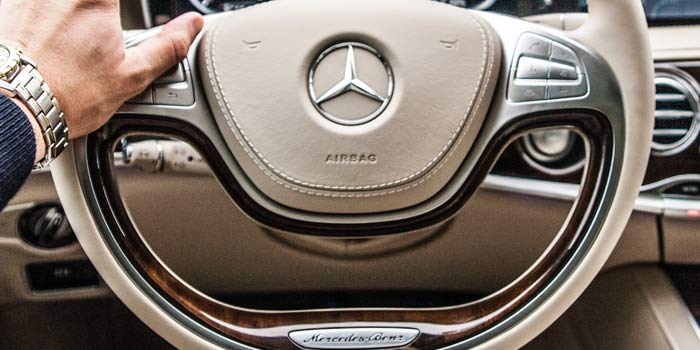 Graphic designers have some criteria to evaluate the quality of a logo, that is, the characteristics that make a logo stand out as a great logo.
Some of these criteria are the result of a large consensus among design professionals. So I prepared the following list of these criteria that will allow you to identify the power of your logo.
Let's start with one of the most basic.
Your logo is scalable.
Your logo works in any size, or there are adaptations designed for different sizes and formats.
When a logo is not designed to be scalable, one of these two things can happen:
A logo can work very well in large sizes, but when it comes to small applications such as business cards, labels or pins, the logo stops causing the same impact; the image stops being clear and identifiable, or also, that the text becomes difficult to read.
At the other extreme, a logo can look good in small formats, but when it's enlarged, looks pixelated, blurry or like it was badly cut (and this happens a lot).
Both situations are regrettable and should be avoided. Nothing like a logo that looks good and causes the same impact in both, large and small.
Your logo has a message.
A great logo should show an appropriate message for the company that represents. It should tell a story, express a feeling, describe or symbolize something important about your business.
In fact, your logo always says something; and you must take care of it and analyze that message, because sometimes that message is not as good for your business as you could be believing.
A logo must be successful describing some positive attributes of your company and not letting it have second or third interpretations that may be inappropriate.
Your logo gives an identity.
A good logo makes you feel part of something, helps to feel the pride for a company or organization.
And if your logo makes you and the people involved in your business feel identified, it is surely a great logo.
Your logo is simple.
A great logo should not be saturated with unnecessary elements to fulfill its purpose. Here the phrase "less is more" takes on special importance.
Simple is not the same as shallow or empty. And it does not go against any of the other points mentioned in this list.
Your logo should be easy and fast to see, interpret and identify. And the human brain makes this visual process better when less are the elements that make up the image.
Usually, your audience will not stop to see it to decipher what it is. Rather, it's the opposite, if it is something that needs extra work to process, the brain will not pay attention to it.
There are exceptions to every rule. There are complex logos that are great logos, but what they have is that they are very attractive and arouse curiosity. There is a lot of work behind to achieve this.
It is typical that inexperienced clients or designers seek to add more elements to express more things, to say more, when a logo should only express one or two things and should do it well.
Just make a list in your mind of 3 or 5 logos, the ones you remember the most quickly. Think if they are complicated logos or simples. I believe without a doubt that the simple logos will be the winners.
It is what works best and what you should give your audience, an image that synthesizes the best of your company in a few strokes.
Important note. Do not think that designing a simple logo is the easy way. It almost always takes several hours of visual synthesis work trying to find the best way to find the best image.
Your logo is flexible.
Logos are not static images. A great logo adapts to the different situations of the company.
There should be rules in which your logo must move to keep the same identity and at the same time maintain the flexibility of being able to use in each condition.
These rules are what is known as the identity manual. And a logo would lose part of its power without the guides that indicate the minimum sizes, the colors, combinations, and accepted variations; typographical fonts, spaces, and positions, etc. As well as a description of what should not be done with your logo, that is, with your image.
Your logo is powerful.
As you know, images can have great power, the power to awaken an emotion, a feeling. And if your logo does that in your audience, you have a great logo.
Sometimes, that feeling is learned in the time and with the interaction with your audience. The process of communicating a logo is not automatic, but rather it is an interaction process built over the time, especially in new designs and new companies.
Your logo is technically neat.
A logo should be technically well done, where digital files exist, they are in vector format or curves. And the strokes are clean and minimum necessary to represent the image. Likewise, typographies are converted to curves.
If what I just said does not make any sense to you, don't worry, I'm only using some terms that designers usually use.
But in a simpler language. Your logo should be in the appropriate formats for easy and correct use in all the applications that may be needed, from an icon for social networks to make a giant impression that covers a building (just to mention a couple of examples).
The  vector or curves format, indicates that your logo is made with mathematical lines that can be modified to any size and will not lose definition, which happens with pixel's formats such as JPG, PNG, GIF, PSD, etc.
You can read this other article where I explain why not to use your logo in JPG.
Inside of this technical neatness, there is the color information, which with the help of the identity manual, everybody can know the right reproduction of the colors so that can be as faithful as possible in each of its uses.
Your logo represents to a great company.
Lastly, this point does not correspond that much to the designer, but is, perhaps, the most important.
A logo can be beautifully designed, but at the end, what it does is to reflect a company, and if the company is loved, admired and recognized, your logo will be too.
The purpose of your logo is to represent you through an image. So your role is to continue creating and developing a great company and the role of the designer is to take the essence of your business and translate it into the power of an image.
These are some characteristics that make a great logo. But, what do you think, Is there any other feature that I missed. Participate here below, I would like to know your comments.

Your logo and your website are the face of your business. Thinking about design is not thinking only on lines, shapes or colors; is to think about showing that you are professional, reliable and likable.
When the time comes when you need a designer,
send me a message
. I will be glad to assist.
- Mario