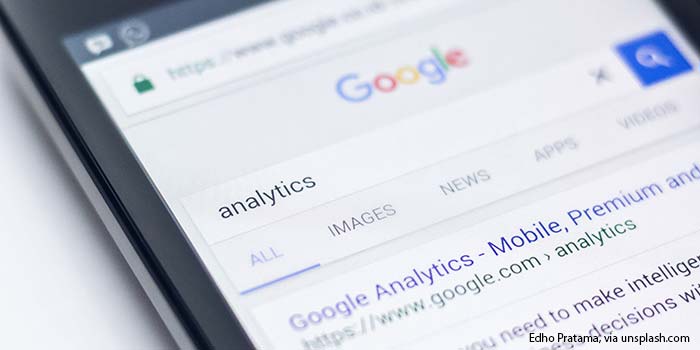 As you may know, Google is the king of the internet, which means that if you want your site to have a better position in the search engines, you must play and follow its rules.
Google's main goal is to provide relevant, accurate and important information to its users.
The more important, original, and useful information you can offer, the more Google will see you better and will improve your position within its ranking.
This is SEO (Search Engine Optimization), it's to help search engines to find, understand and show the information on your website.
In this article, I'm going to cover organic search results only, which are Google's results that you do not have to pay to be shown.
The following sections have some of the most important pieces Google (or Bing, or other search engines) can be able o find you and improve your position in its ranking.
Your site has to be clear.
Google has different robots (intelligent programs) to scrutinize the web, which literally read and interpret each page to know what they are about and what is its content.
Therefore, your visitors, including Google, should clearly understand what is your website is about. If you offer accounting services, make sure everybody understands you are talking about accounting services. If you sell beauty products, make it clear what type of products they are, what brand, the content, and so on.
You have to be a source of useful information.
If you care about being found on Google, you should know what your audience is looking for in relation to your product or service.
People rarely will search for the name of your business looking specifically for you. Instead, surely they will be more specific about what they want to find.
For example, if you are a photographer, the public will hardly look for the word "photographer". Rather, they will look for something like: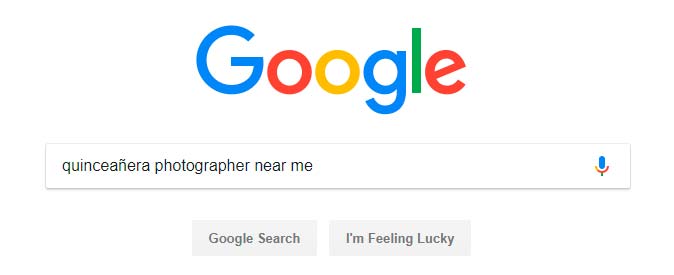 You have more chances of being found if you have a page dedicated to quinceañeras on your website, not only photographs but information.
Better if you have one or several articles on quinceañera photographs, for example, with recommendations of the best locations, or how to achieve better shots of quinceañeras.
Research what your audience is looking for. Remember, Google wants to provide to its users important and relevant information, if you have that information, you will be in the results.
Also, be careful not to turn your website into a medals and achievements display. I mean, it's good to talk about the achievements, facilities and the awards received, but not to base your website showing off who you are or what featured you have. Always translate that information into how that benefits to your customers.
Start your blog and update your website constantly.
Having a blog on your website is a good strategy for your audience to know what you know and what you do. If they see and read interesting content on your pages there will be more and more visitors.
A blog is a great opportunity to speak directly to your public. They can leave comments that you can use as valuable feedback. This will help you to improve and to learn better your visitors' needs.
Another aspect Google sees is how often your site is updated and when new information is added.
This is another great advantage a blog has. You can add news and information about your activities, and you can keep it updated for the people who follow you.
Some experts recommend making a new publication weekly, meanwhile, other recommend publishing daily. Be disciplined, just publish as often as possible.
The more frequently you post and the better the information you share, the better. You will have more content to offer your visitors, more visitors will come and they will do it with more frequency.
Share new and original information.
Copying content never is a good strategy. Besides that it can become a copyright problem, Google knows when it is a copy of another site and punishes it by lowering the ranking, and in some cases, eliminating those pages from its index.
Write original content for your website and blog. Write about what you know and what you want your audience to know.
Show how you can help them. You can explain cases and how you solved them, or you can answer some frequently asked questions.
In the event that you do not find new topics to talk about, you just have to analyze what you do every day, what happens in your business, you can explain your work system, what are your activities or what things avoid headaches to your clients.
You just have to take some time to make a list of subjects and put them on a publication schedule (so you feel committed to doing it).
Increase the number of visits to your website.
For Google is important the number of visits your website has. Which is logical, if more people visit your site means that there is more interest in your pages and it's more valuable to show it.
But how to achieve it? It is not easy and always requires at least one of the following three elements:
Money, Time and Luck. Let me explain it below.
Money
You can pay for ads, so more people can visit your web. (This matter will be for another article).
Also, you can look for one or some influences from social network that are inline with your business. They can be a good source of visitors.
Do not forget to show your website everywhere, from business cards to vehicles and advertising. People might not remember a phone number but may remember a website easy to memorize.
Time:
You need to spend time writing your articles. Time to share on social media as much as possible. Time to start conversations in forums where you can add value and be in contact with other people, who can share your articles. All this is adding, and bit by bit will improve your position in Google.
Also, the age of a website is an element that search engines used to rank pages. Google may give priority to a site that has more years online than another that has a few months.
Luck:
It may happen when someone famous with a lot of followers visits your website, he likes something, and talks about your site. Or purchased your product and commented on his social networks.
Another stroke of luck might be that your product or service became trending and many people are looking for it. These are circumstances that do not depend on you but the chances are on your side.
I recommend not to base the success on a possible act of luck or virality. Most of the time it doesn't come up and if your site is not good enough, the luck will not last.
Submit to Google as much information as you can about your business.
Google has many tools to help you to improve the presence of your business in the search engines.
If you have a brick-and-mortar store or office, it is essential to fill out your business information in Google My Business. Add your hours of operation, photos, verify the address, descriptions, products, etc.
Another way you can be found is with Google Maps. It works together with Google My Business. In the same way, verify if your position on the map is correct and respond to the reviews. If you have more than one location, make sure every location has it's information complete.
Can you create videos? Do not miss the opportunity to be on YouTube. People will be able to find you in this plataform too. As in your blog, you can share useful information, answer questions, show your facilities, or even make entertainment videos if your business allows it.

Optimize the technical SEO of your site.
SEO also depends big time on the technical configuration of your website. Some configurations are easy to do, others a little less. I will tell you some of them, so you can assess them and take action.
The title of each page.
Each page must have a descriptive title and should be according to the information it contains.
Google does not like titles without relation to the text of the page, neither too short as a word nor too long.
The structure of the URLs.
This is how the addresses of your web are configurated. For Google, it is better to use something like:
www.mybusiness.com/blog/start-your-busines-in-5-steps
Avoid using non-sense URLs like:
www.mybusiness.com/b359
Both addresses can be the same page, but the first one gives you a description of what you are going to find on that page and Google likes that way.
On the second one, nobody knows what is behind that address, and it can even be considered suspicious.

Robots.txt and the Index.
The robots of the different search engines look for the robots.txt file as part of your website.
This file has information that can allow or deny these robots to analyze and index your website pages.
You can see the content of the file robot.txt on your site with this example:
mydomain.com/robots.txt
It's important to have the correct configuration. A bad adjustment could avoid Google to index your pages.
On the other hand, your site index helps the search engines to know what information is available and understand what they should explore and analyze.
You can see your index's status by adding "/sitemap.xml" after your domain, for example:
mydomain.com/sitemap.xml.
Meta tags
Meta tags are hidden information for regular users. But not for browsers and search engines, they use meta tags to interpret the information on the page. There are several types of meta tags, but for SEO purposes must not miss: Meta tag "description".
This information gives a short summary of what the page is about to the search robots.


Optimized for mobile devices
Also known as "Mobile-friendly", it's vital to have your website adapted to mobile devices, whether phones or tablets. Especially now that more than 60% of web browsing is from mobile devices.
Make sure your site is responsive (adaptable to different screens), Google simply no longer shows results that are not adapted for mobiles.
You can visit this tool from Google that analyzes your website and provides some suggestions to optimize your pages to get a better experience for your users.
If you want to know more about this topic, you can read this article about how navigation has been transformed from desktop computers to mobile devices.
SSL Certificate
Google verifies if a website has an SSL certificate and avoids the ones that don't have it.
An SSL certificate encrypts the information that travels to and from your website and users, which makes it much more difficult to be intercepted and stolen (for example when someone fills up your contact form).


It is always a good practice to have your SSL certificate, and nowadays, most hosting provide a free certificate. All you have to do is check in your administration panel or communicate with technical support to activate it.
This is so important that if a page does not have this certificate, your browser warns you that it might be a dangerous site. Imagine how harmful it can be to your business website.
Broken links
Surely throughout your whole website, you have several links to other pages, internal or external to your domain. Watch if your links are continuing working, and they are not taking you to nonexistent pages.
Broken links are an indicator of a not-updated website. Not only your users will have a bad impression, but Google also will not be able to include those pages in your indexes and will damage your optimization.
The speed of your website.
I'm sure you want your visitors to have a great experience visiting your pages, and also that search engines to show your site in their results list. But if your page is slow and is not optimized to load quickly, it will be more difficult to reach this goal.
Google has a tool to evaluate the speed of your page.
After doing the test, you will get a score. The closer you are to 100, the better optimized is your site.
You will get indications to improve some aspects of your site (once again you can communicate with your hosting provider, they will be willing to help you achieve a better speed for your website).
Use Google Analytics and Search Console.
Google Analytics helps you to measure in different ways how your site optimization is.
Search Console is a tool to monitor and help to improve the presence of your site into the search results.
They are a bit more complex and require more dedication for a beginner (it's not something like quantum physics, but you do have to spend some time learning to use them). These tools need you to sign up and add some code to your website.
Google Analytics displays valuable information such as the number of visits, origins of those visits. It can tell you what pages are the most visited, how long visitors stay, and if they return to your website. Information very useful for you and your business.
To learn more about Google Analytics you can start at the Google Academy.
In Google Search Console, you have to register your website. Robots from Google will visit your site (which might take up to a few weeks). This tool will show you how Google sees and interprets your site. Can give you instructions to help you to optimize your site. Also, can tell you if there are errors on your site so you can correct them.
One more tip. In Google search, type "site:" followed by your domain. You will see everything Google sees on your site.
site:mywebsite.com
Google likes when you help him do his job of delivering valuable information to his users. As you can see, there are many things you can do to improve your positioning.
Tell me if this article was interesting and useful. Please leave your comments down below. You can also visit my contact page. I will be happy to hear from you.

Your logo and your website are the face of your business. Thinking about design is not thinking only on lines, shapes or colors; is to think about showing you are professional, reliable and likable.
When the time comes and you need a designer, send me a message. I will be glad to assist.
- Mario