I will design great marketing material to promote your Business.
Be visible and relevant to more people and help them find you.
Easy
Professional
Affordable
Effective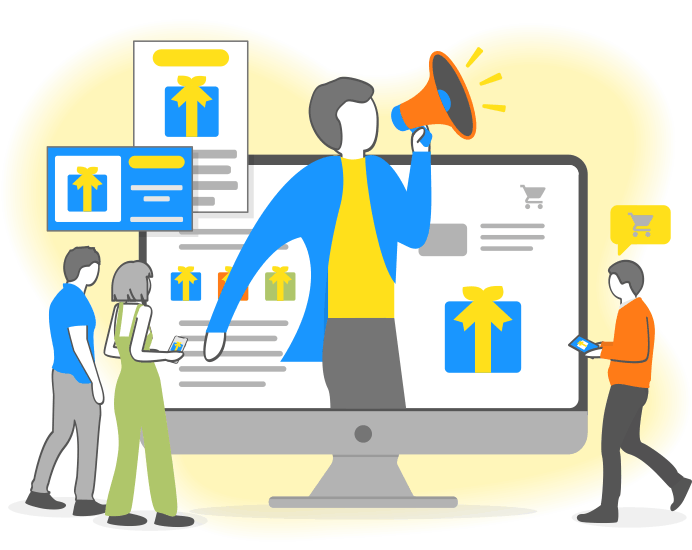 Advertising is vital for your marketing strategy to attract more people to your business.
Either printed or online ads, the brain responds better to images. Promote your business with visual marketing material.

How does this work?
Everything begins when you select your plan and submit your basic project info. I will send you back a welcome email and a few questions about your project.

Once you send back your answers, I will send you the plan and your estimate with a link for your first payment.

Research & set the message

Depending on your order, I may start researching and designing the concept & ideas for your ads.

Design process & implementing

With the scope defined, I can start designing and implementing your ads.

Your plan may include revisions and adjustments to set the final design. When your order is ready, I will send you the final files after your final payment.

This is my main goal. Win-win projects. I will be available for any consult about your project, and ready for the next round in case you need anything else.
You have so many good reasons to advertise your business.
More and more people will know about your services and products.
Potentially millions of eyes might see you.
The return of your investment will pay off.
You can have a closer communication with your public.
You might recover former clients.
Ads can make you stand out from others.
Can be easier and faster to find you.
Create recognition of your brand.
Improve your business reputation.
Show off your business.
You may have more profits by selling more.
The market may be benefit by having your great services and products.
Frequent Asked Questions
What is the process, how does this work?
Once you choose a service that fits your needs, I will send you a few questions about your project that will allow me to know you and your goals. I will work on your project and we will be in communication throughout the project. Depending on your plan, I will keep you updated on the progress. Once the design is finished and paid, I will release it to you.
Do you do the printing?
No, but I can work with your printing service provider, or I can guide you to find a couple of online printing services.
Do you have access to my Social networks' accounts?
No, I will design your images and you always will be in control of your accounts and postings. Once you receive your pictures you will decide when and where to publish them.
Do you edit and provide videos or animations?
At this moment I'm not able to provide videos or animations.
Do you have a phone number to call you?
I prefer email or the contact form on this site. Phone calls and scheduled video conferences are possible once I'm working on your project.
I don't have pictures for my ads, can you provide them?
I can get some pictures from stocks, but for better results, I recommend personalizing all your pictures. If you need it, I can help you either with photos of shots or custom icons-images, also, with premium stock images. This might require a separate quote.
Why should I choose you over others?
Certainly, I can be the best option for some but not for others. Check my portfolio, I have great attention to my clients, and my fees are affordable. Contact me, and you will find out if how I can deliver a powerful designs for your business.
How are the payments?
Payments are in advance, depending on your services requested and the phases needed to accomplish it.